Moving to Greenhost
When you want to transfer your domain name, website and email to Greenhost, you want the transfer to take place as smooth as possible. Below you will find an overview of the transfer-process, stating what actions you need to take and what you can expect from us.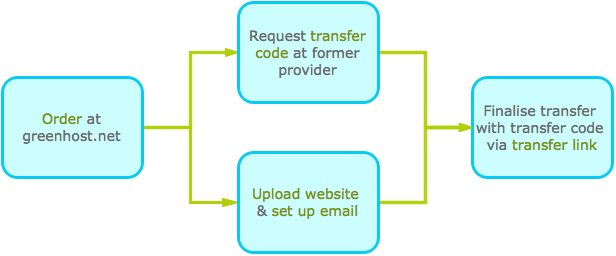 Step 1: Start
Placing your order
First place an order via our website. If you already have a Cosmos Service Centre account, place the order by logging in and choosing '+New domain name' to add an order to your existing hosting package. When searching for an existing domain name an 'exists' and 'transfer' button appear next to the domain name. When you click 'transfer', a window pops up asking you if you are the owner of the domain name, click 'Yes'. This will not yet initiate the transfer, but will enable you to prepare the move. If you want to host a website or use email on this domain, you should also add one of our hosting packages.
We create your account
If you are a new customer, we may contact you by phone to confirm your order. As soon as we have confirmed your order, your customer account is created and your hosting environment is prepared. You will receive a welcome email with the details needed to get started with your account. If you ordered a hosting package, the email will include a temporary URL on which you can preview your domains (http://yourdomain.com.greenhostpreview.nl). Also, you will receive a transfer link to use when you are ready to move any domains which are currently registered at another hosting provider.
Step 2: Request transfer code and transfer your data to our servers
Transfer code
When you are almost finished setting up your website and mailboxes, you should request the transfer code (sometimes called EPP code, AuthID or something different) at your previous hosting provider or registrar. This code will be used to verify the transfer. A few select domain name extensions (TLDs), like .de and .eu, require a more elaborate procedure. Dor these TLD's it is recommended to start requesting the transfer code a little earlier than usual.
Upload website
Using the login details received in the welcome email, you can upload and set up your website. When your website is set you can check if it is working properly via the temporary URL (http://yourdomain.com.greenhostpreview.nl) before the actual transfer of the domain name.
Set up email
You can also create mailboxes via our Service Centre. When you create the same mailboxes you had in place at your previous hosting provider, you will automatically start receiving any new email in your Greenhost inboxes after the transfer. When you have been using an email client (like Outlook, or Thunderbird), then within your email client you need to configure your account anew or create a new account. Old emails will be left on the servers of your former provider. You can sync these old emails to our server, using IMAP
Step 3: Finalise transfer
Transfer link
When you have set up your website and mailboxes, you can ask us to finalise the transfer of the domain name. The easiest way to do this is to click the transfer link in the separate email you have received from us, and enter the transfer code. You can also contact us with the moving request, including the transfer code.
Completion
After the transfer of the domain name has been requested, it can take up to 5 days before the transfer is complete. The .nl domain names are moved directly after a successful transfer request. Some other domains, like .com, .org and .net may require yet another confirmation by email. If you want to verify the transfer time for your domain, or the transfer takes longer than expected, please contact our helpdesk.